By Ram Bhavanashi
Excellence Appreciated, Truly, Audio-Visually 
Perseverance pays off, they say. It did, and in what an overwhelming way! The Systems Integration India Awards (SIIA) 2016 event held on 12 September 2016, just reinforced this in no uncertain terms. While it straight away meant opening up of a new chapter in the annals of Indian AV, it also paved the way for some benchmarking. All said, it's just the beginning, but a grand one.
SIIA 2016 IN BRIEF
23 Projects
15 Companies
5 Categories: competition
6 Categories: no competition but judged
2 Highly Commendable Projects
2 Lifetime Achievement Awards
The Awards, Thus They Got:
| CATEGORY | BUDGET | RECIPIENT |
| --- | --- | --- |
| Corporate | 1 Cr or less | PLAY |
| Corporate | 1 Cr to 5 Cr | PLAY |
| Corporate | 10 Cr and above | AV Integration Distribution (India) Pvt Ltd |
| Government | 1 Cr to 5 Cr | AV Graphics (P) Ltd |
| Government | 10 Cr and above | Bharat Radio Centre |
| Museum | 10 Cr and above | VizExperts India Pvt Ltd *Highly Commendable Project-I |
| Government | 10 Cr and above | Innovative Systems and Solutions Pvt Ltd *Highly Commendable Project-I |
| Government | 10 Cr and above | T2 Consulting Pvt Ltd and Rhino Engineers Pvt Ltd *Highly Commendable AV Design |
| Lifetime Achievement Award | Most Distinguished Visionary in Systems Integration in India | Manmohan Gupta |
| Lifetime Achievement Award | Most Distinguished Professional in AV and Lighting Design in India | Kelvin Ashby King |
As the curtains went up by 6 pm at the venue on 12 September, with the emcee walking up the stage, to begin the process of the inaugural Systems Integration India Awards (SIIA) 2016, the excitement that rant the air explained the surcharged atmosphere!
Quite understandable that- given the months of persevering workouts we lived through, and the message we apparently sent across! A first of its kind initiative in Indian, if not Asian AV industry, for its very nature and genre, the SII Awards 2016 event, for one, was more than a revelation.
It had, arguably, the cream of Indian AVSI industry- top manufacturers; dealer-distributors; partners
It had the top-notch systems integrators; consultants
It had the industry's highest institutional body top-brass, AND
It had, probably, the most comprehensively structured award processes in the industry till date
All that on the first go!
While the popular Mumbai-based singer Mihir Joshi provided the initial tonal rhythm to the proceedings with his scintillating musical performance, the ten-minute presentation by Spinworkz' Publisher and Editorial Director Thomas Prakasam that followed immediately explained it all.
The objective, vision, and mission that it moved along; the categories and awards that were evolved; the judging methodology devised; and the dimensions it projected.
The 40-minute Award presentation journey that followed thereafter not only meant recognizing and rewarding of some of the most ingenious AV projects in India but also the glory of appreciation they won by a Jury of global repute.
"I'm most impressed with both the quality of projects and technical expertise required to deliver these projects," lauded Michael Rutledge, Executive Director, Rutledge AV, Australia, one of the members of the Jury.
The initiative brought to light "some very cool projects" felt Jay Rogina, Principal, at the USA-headquartered Spinitar.
The Awards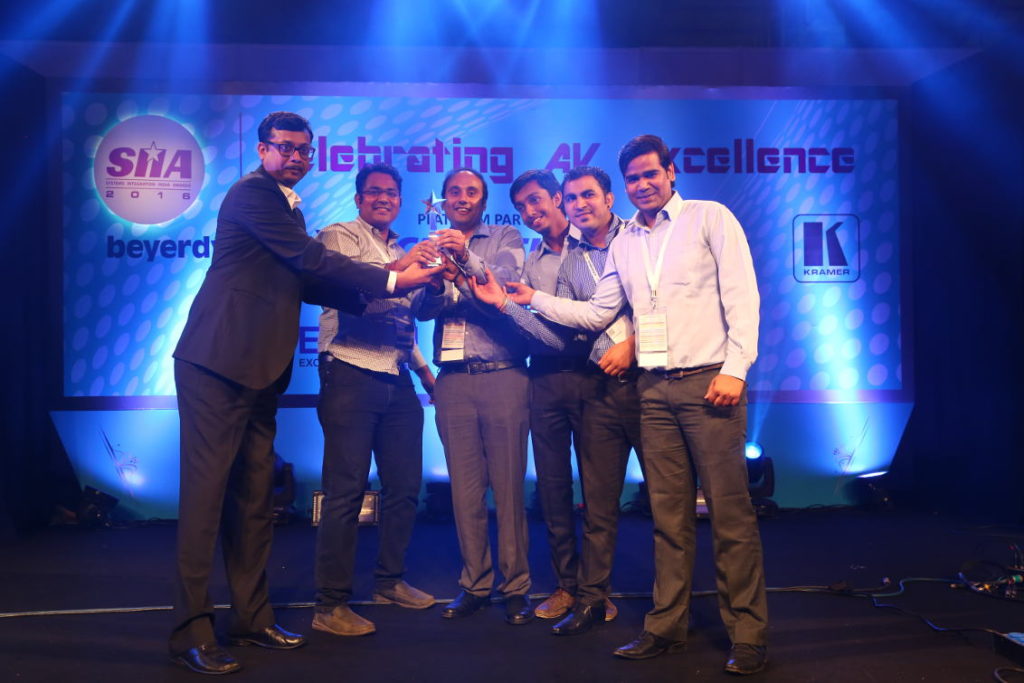 The very first Award of the event/evening, the Best Application of AV in a Corporate environment with budget range of ₹ <1 Cr or less went to PLAY for its ingenious design and integration of Formal and Informal Rooms at a project site of Hindustan Unilever Ltd.
Swadesh Khetawat, Managing Director of GreenSources Pvt Ltd presented the Award to PLAY.
Interestingly, the Mumbai-based AVSI-Consulting firm scored a double when it won the next level Award too, in the same Corporate category with the budget range of ₹ 1 Cr-5Cr due to its ingeniously done design-build of full AV and Energy Management System at the entire facility of D'décor Exports Pvt Ltd.
Harish A K, Deputy General Manager of Epson India (Visual Products) presented the Award to PLAY.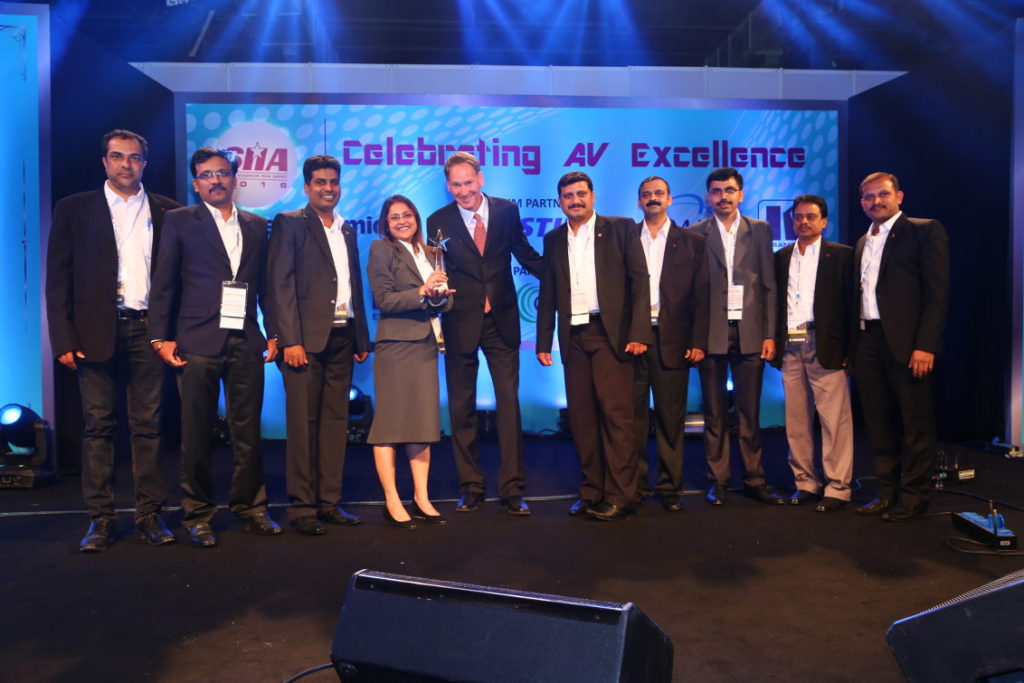 The Award for Premium segment AV application in this Corporate category, with the budget range of ₹ 10 Cr and above, was won by the Bengaluru-based Audio-Visual Integration Distribution (AVID).
Kramer Electronics Ltd's Vice-President-Marketing Aviv Ron, who has flown straight from their Israeli HQ, specially for the SII Awards, did the honours for the winner.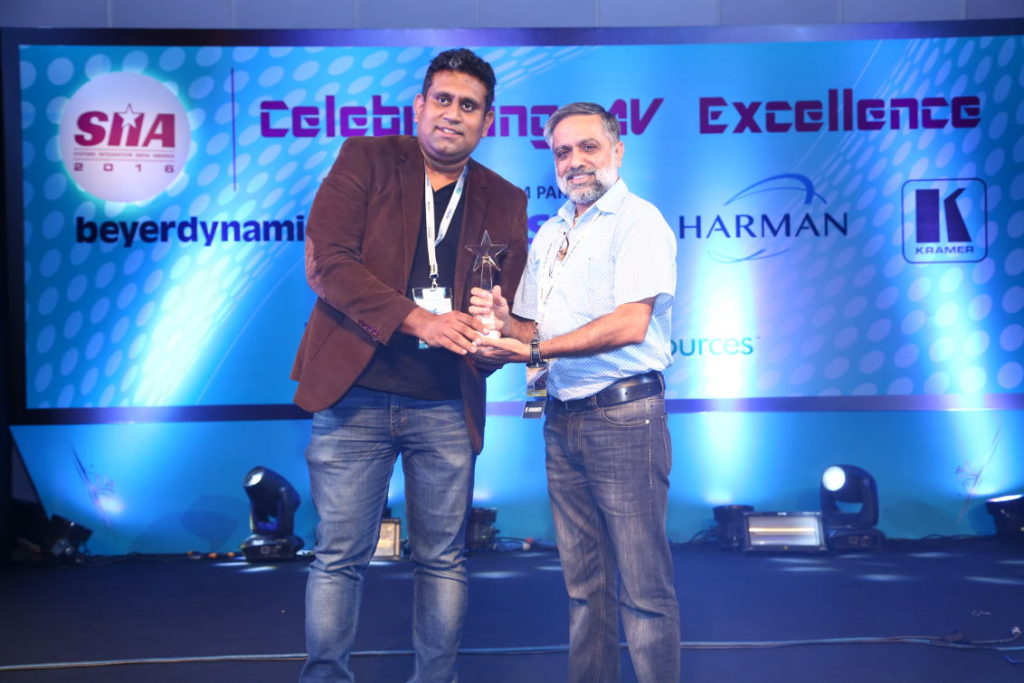 The next Award – Best application of AV in a Government environment with a budget range of ₹ 1 Cr- 5 Cr – was won by A V Graphics Pvt Ltd, for the ingeniously done full turnkey production and installation of a Sound & Light Show at the Jharkhand War Memorial in Ranchi, for the 23 Infantry Division of Indian Army.
Prashant Govindan, Sales Director at HARMAN for India & Sri Lanka Operations, gave away the award.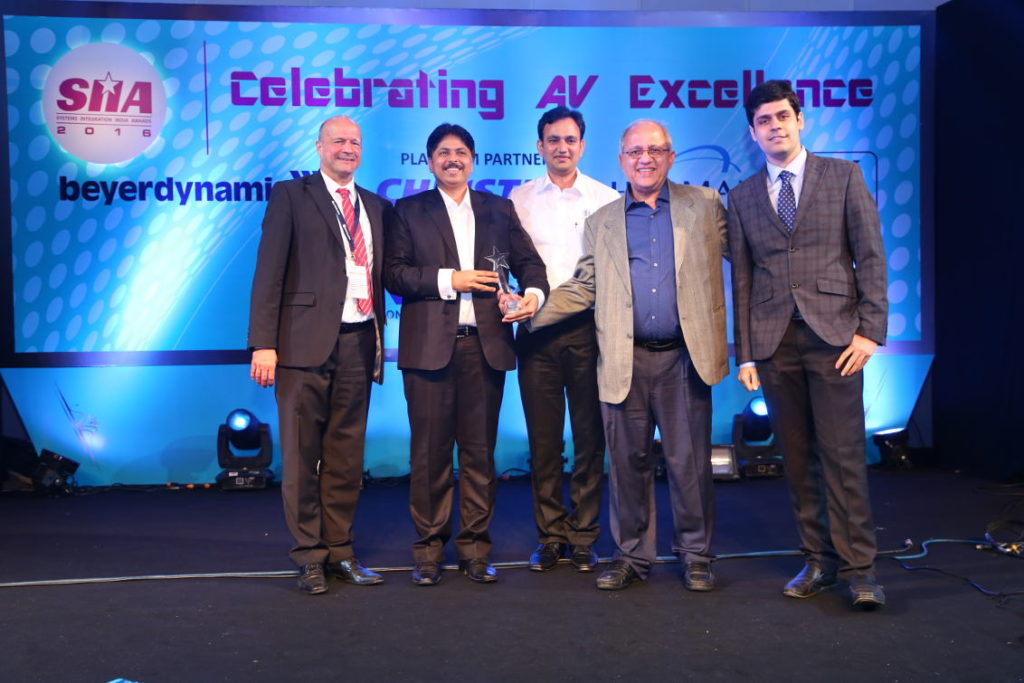 The next level Award in this category, with a Premium budget range of ₹ 10 Cr and above, was won by Bharat Radio Centre for its design-build of high-end conferencing system at the Main Mandap of UP Vidhan Sabha (Legislative Assembly). The system comprised embedded microphones and voting capabilities, simultaneous interpretation, camera pickup, live audio and video streaming and sound reinforcement.
beyerdynamic Managing Director Wolfgang Lukhardt did the honours for this prestigious Award.
Highly Commendable Project Awards
That some of the projects submitted were very unique and had a very close contest, the Jury Panel commended them highly for their sheer nature, and expertise woven into the space. The event thus had two Highly Commendable Projects: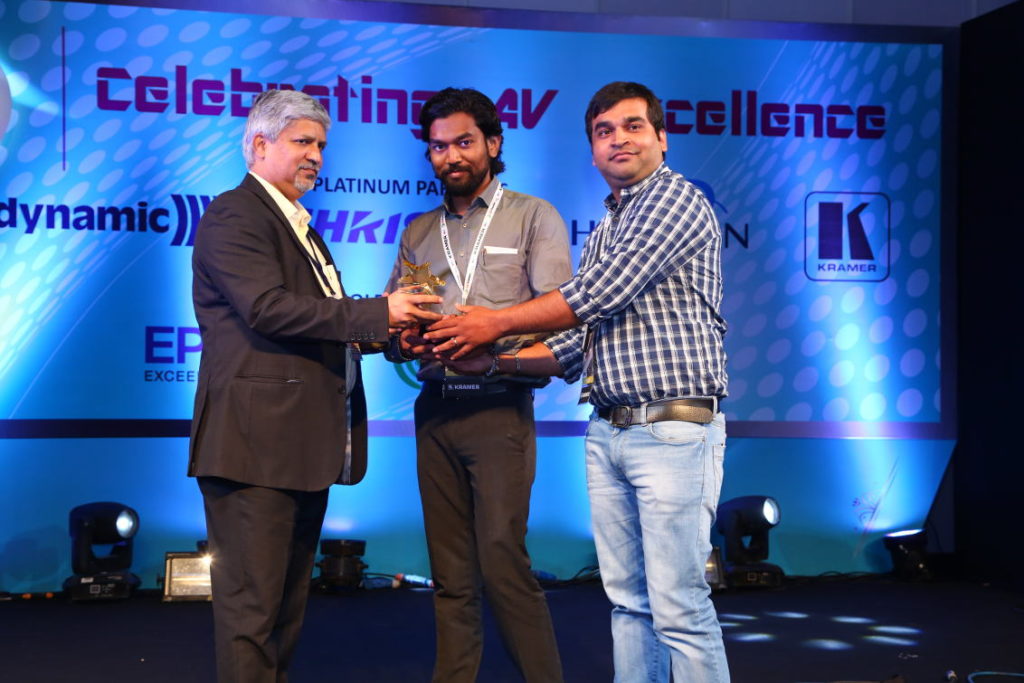 One- Gurgaon-based VizExperts for supply, install, integration, testing and commissioning of multi-channel AV and IT hardware including fully integrated high resolution immersive show with animated multimedia, images and video content for the Digital Panorama the Science Exploration Hall for Kolkata Science City.
Two- Mumbai-headquartered Innovative Systems and Solutions for implementing different technologies like Holographic imaging, multi-projector edge blending, 3D mapping, interactive touch walls, projection masking, 360 degree projection and more, for Dandi Kutir Phase-2 in Gandhinager.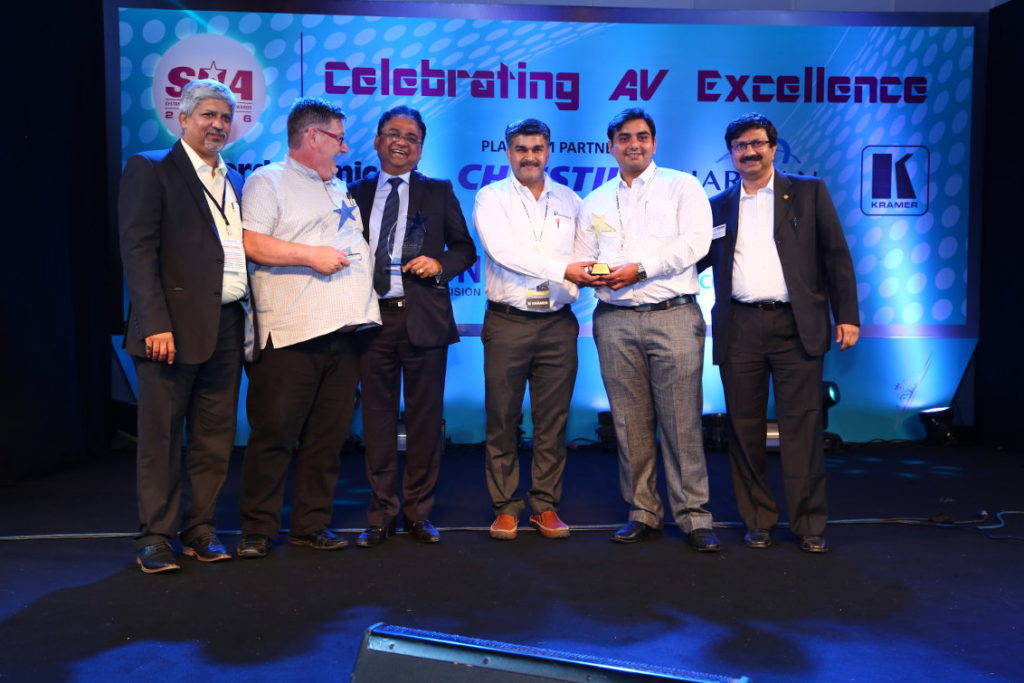 Rajesh Patkar, Deputy GM of Christi India presented the awards.
That the Dandi Kutir install had two consultants contributing their might, SIIA decided to honour them as well for the sheer expertise woven. Kelvin Ashby-King of T2 Consulting and Naidu Narendra of Rhino Engineers received the Awards simultaneously.
Marking New Dimension: Lifetime Achievement Award
The SII Awards 2016 reached its Finale with what had most in the gathering haven't even thought about! With a resolve to benchmark as also value-add in its own distinctive style running strong, SIIA Organizers marked a new dimension to its 'Celebration of AV Excellence' event with a Lifetime Achievement Award.
Here we recognise Naveen Sridhar, Director Sales & Marketing -SAARC, beyerdynamic India Private Limited, who had mooted the idea of the Lifetime Achievement Award. It was his suggestion that helped us develop the Lifetime Award.
Here again we recognise the invaluable contribution by Prashant Govindan, Sr. Director – India & Sri Lanka Operations, Harman Professional, who provided the organisers with the appropriate recognition words to distinguish between the two Lifetime Achievement Award winners.
Interestingly, the voting members, who are the Partners of this award event initiative voted two highly acclaimed individuals with equal votes. The SIIA, therefore, decided to honour both of them, in all the fairness of the objective. The Lifetime Achievement Award thus was presented to:
Manmohan Gupta, Founder of Actis Technologies, and
Kelvin Ashby-King, Managing Director, T2 Consulting
This prestigious Award presentation had none other than InfoComm International Executive Director and CEO David Labuskes doing the honours.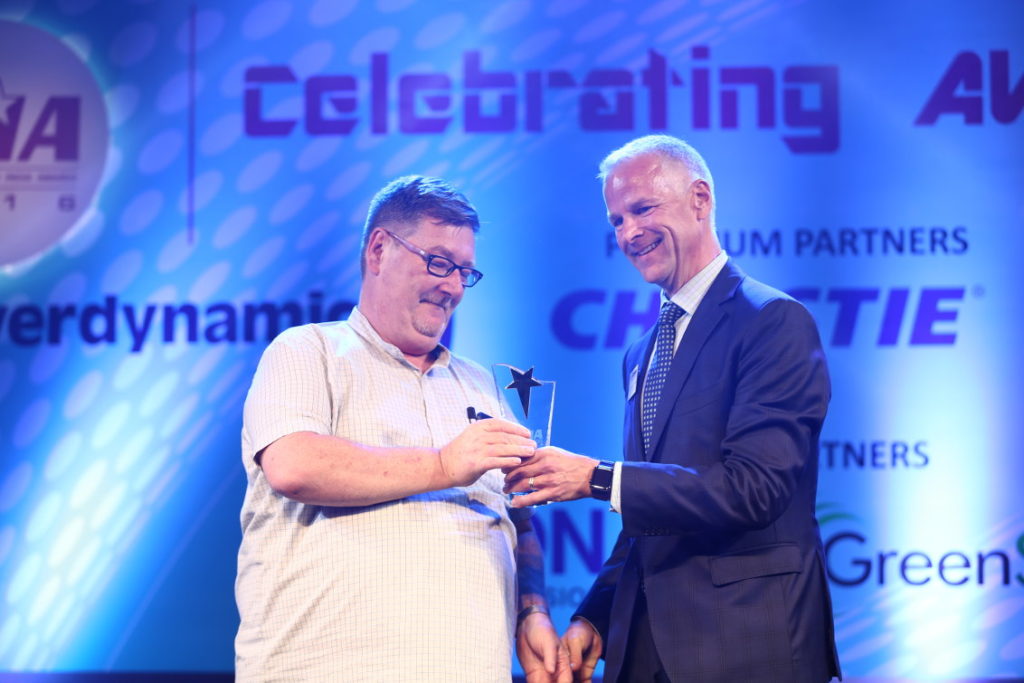 SIIA Partners Felicitated
All said and done, SIIA 2016, couldn't have been there without the exceedingly fulfilling support of its Partners.
"We have been feeling for something like this for quite some time; we were glad when SIA came up with it,' says Rajesh Patkar, Deputy General Manager, Christie Digital Systems.
"There can be multiple benefits from the initiative. It will encourage SIs doing good job as 'a practice' and not just as a mere job; consultants create better designs more and more, to stand a chance for the honour."
Chips in Bharath Kumar, Country Manager, Kramer Electronics India: "This is a recognition not just for SIs but also to ourselves – the manufacturers; and consultants, besides distribution partners. The appreciation for a good work done in integration will act like a nice encouragement for all those involved in the work; it will help enhance our offerings in terms of products and solutions."
www.siindiaawards.com
THE AWARDS EVENING…Capturing the moments pictorially…
A special BIG thank you to our Judges…who had to set aside time amidst their busy schedule to judge the entries.